Crystal Tones Singing Bowls
Crystal Tones singing bowls are made of the highest quality
(99.992% pure!)
quartz crystal, making them incredibly resonant. The tones produced by these crystal bowls are not just heard by the ear but felt in the body, affecting your energy centers (chakras), promoting system balancing and healing.
Each chakra vibrates at a different frequency and each of the bowls Breeze-la works with vibrate at a
unique
tonal frequency. The whole notes C,D,E,F,G,A,B correspond to the main chakras beginning at the root and moving up to the crown. The sharps C#,D#,F#,G#,A# correspond to each endocrine center from the reproductive glands up to the Pineal/Pituitary cluster.
The collection of bowls drawn to Breeze-la include all 12 of these notes, allowing them to resonate the entire energy body.
Grandfather - Sage
Ceremonial thunder and Earth energies are the essence of the Grandfather Bowl that radiates wise patriarchal energies. Connect and ground with the Earth's elemental kingdom and the ancestral wisdom of the Grandfather vibration in your heritage for grace and inner knowing. Iron-fused quartz crystal inspires diplomacy of traditional values. Acknowledge grandfather's ancestral gifts in his etheric crystalline headdress and feathers.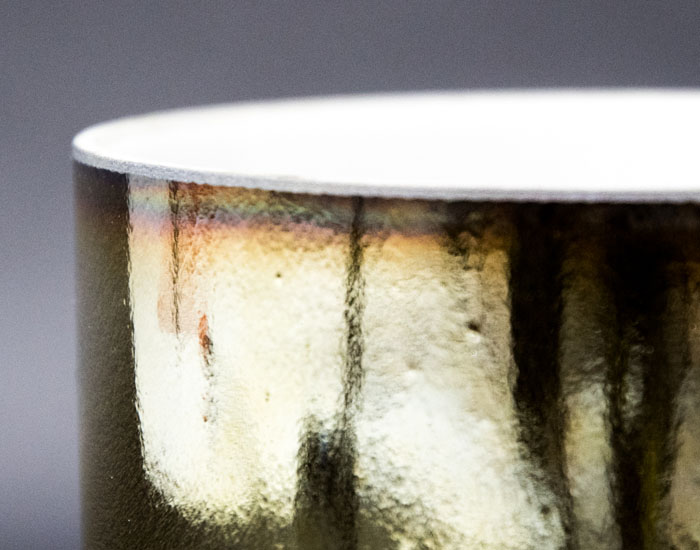 Charcoal
Move into uncharted spiritual and physical dimensions with the pure crystal charcoal bowl alchemy, a grounding tool for today's rapidly accelerating and expansive energies. The ultimate sound portal for clarity, personal vision and release of physical, emotional, and spiritual toxins. Highly prized in ancient Egypt as early as 1550 BC, and for centuries in Japan, bamboo and other charcoals are often used in physical and spiritual healing because of their ability to absorb toxins and impurities. Quartz crystal with charcoal creates neutralizing positive ions in a waveform that "makes everyday life better." An anecdote for poisons in the body and environment, charcoal can help uplift and remove negative states of being. The Charcoal Bowl can help dissipate confusion and achieve balance. As one moves through life's crossroads this crystalline-infused energy offers guidance for problems or situations that are arising. With intention, this bowl can be a helping agent for removing negativity, bringing about hope, unconditional love, nurturing, grounding, appreciation of the feminine and nature. Evoke mystic visions, spiritual and romantic love, tenderness, kindness, sensitivity and psychic abilities.
Phenacite
Start your energetic engine and get ready for inter-dimensional travel with the sound of Phenacite. This high-frequency alchemy resonates with the hexagonal sacred geometry of the Merkaba, and resonates with advanced beings who are ready to embrace their magnificence, activate their light body, and sail into the multi-universe. The Phenacite bowl spins a galactic vortex of dynamic energy for evolution, and becomes a birthing portal for quantum leap consciousness, clearing all obstacles to move one forward and up to the next level with lightning speed.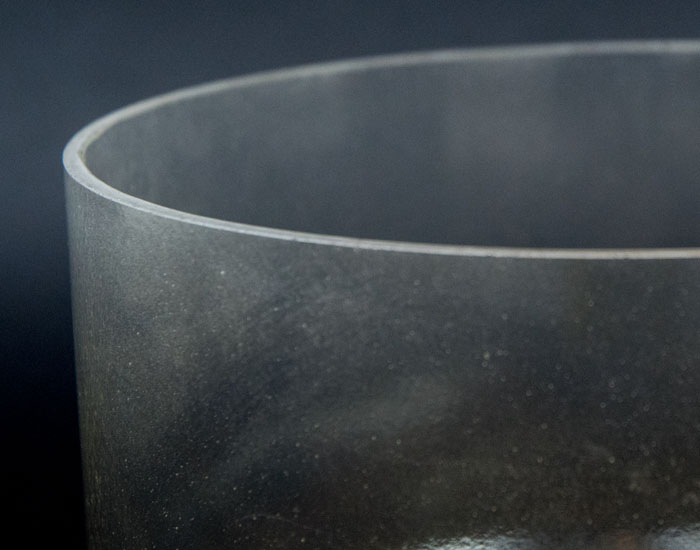 Crysoprase
Green Chrysoprase expresses the vibration of Divine Truth as it promotes joy and happiness. While supporting healing the heart of the energies of depression and anxiety, Chrysoprase attracts new love, abundance and prosperity. This loving crystal is an excellent companion stone to aid other healing stones to work more effectively.
Aqua Aura Marine Gold
Synergy - These powerful bowls helps balance the overly analytical mind and transmute blockages that cause disharmony. A psychic center and yang alignment activator, the Aqua 24k Gold Bowl deeply and quickly entrains the auric fields for shifting, cleansing and activating upper chakras. Its yang energy and colour help relieve depression and lift spirits. The energetic properties of fused gold and quartz undergo a metamorphosis that results in an entirely new, elevated aqua opalescent healing vibration.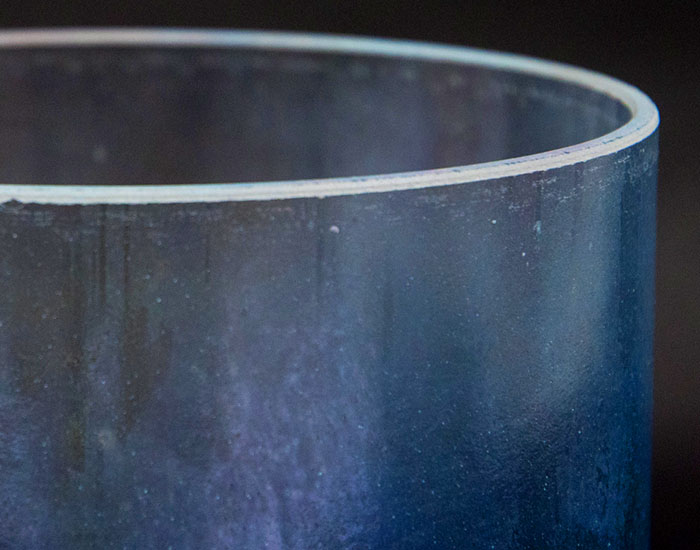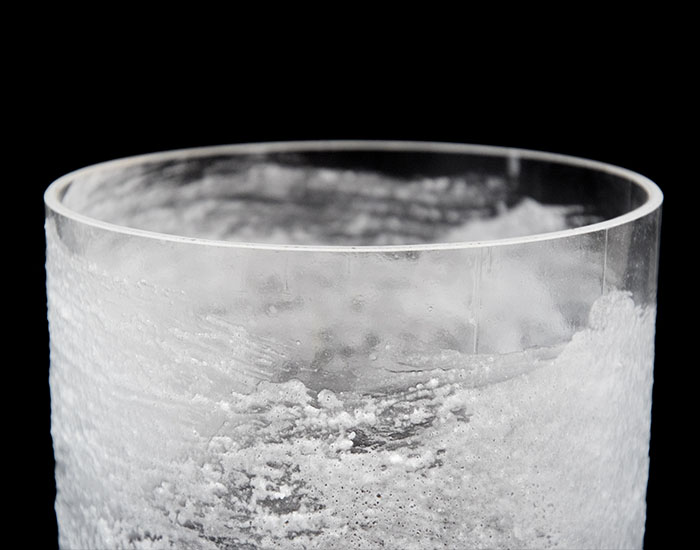 Lemurian Seed Crystal
Spiritual light and wisdom of the Lemurians.
Ruby
An outstanding quartz crystal tool of loving protection with a powerful vibration of mystical ruby, a "stone of nobility", radiating spiritual wisdom, health, transformation and wealth. The Ruby Bowl sounds a lavish red spectrum that "lights" interior planes of Self. Ruby crystal carries an enduring, perfectly brilliant diamond frequency that we crave in relationships, enhancing soul-love connection, Tantric practice and unifying root and crown chakra energies.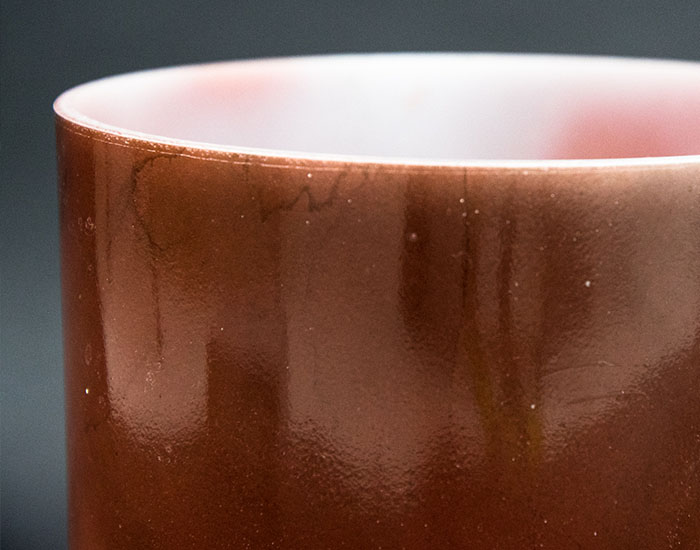 Palladium
Palladium was discovered in 1803, and was named after both the Roman Goddess - Pallas Athena and the newly discovered Pallas asteroid. Palladium is a light silvery white metal that holds the energy of guardianship on the highest frequency. Not a protector, not a teacher but a constant companion and friend. It empowers the inhabiting of higher consciousness while remaining in the fullness of grounding. Palladium is an excellent travel companion, supporting your consistent presence within your heightened consciousness. Palladium encourages the individual to include external activities into your field energy and take on new courageous actions.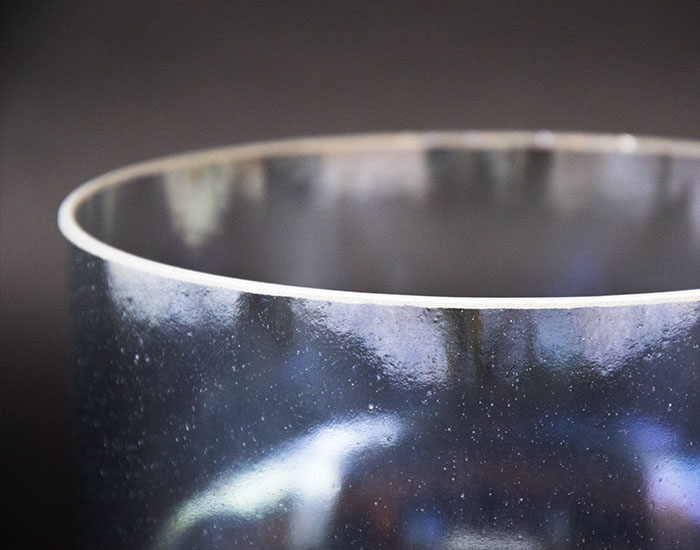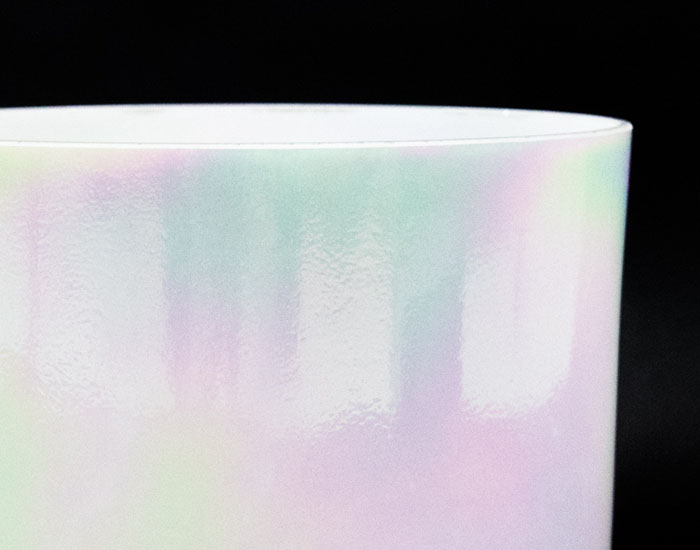 Platinum
Divine Feminine - Pastel rainbow elegance is achieved in our yin energy Platinum Bowl that stimulates the Divine Feminine, relieves stress and depression and aligns the intuitive emotional body. This stunning alchemical bowl unifies astral and physical body fields in a sonic opalescent rainbow bath - a super harmonizer/balancer. It has a calming, steadying, grounding effect for perfect attunement resonance. A beautiful addition to any sacred union celebration.
Citrine
Personal Power - A member of the quartz family, Citrine combines a joyful, cohesive golden yellow energy of pure quartz frequencies that align root and solar plexus chakras. Citrine dissipates and transmutes negative energies while purifying and balancing auric fields. A legendary "merchant's stone," Citrine helps expand/ maintain wealth. The Citrine Bowl, a catalyst for excellent communication, mental acuity and new beginnings, enhances optimism, balance, initiative and personal power.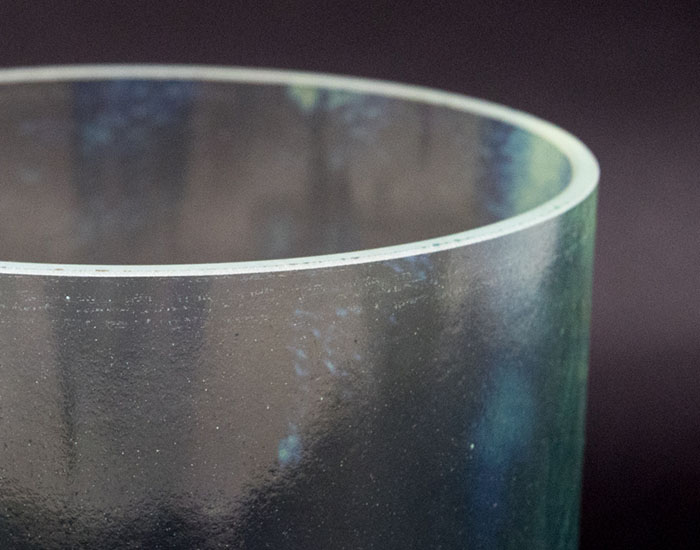 Violet Aura Gold
All is one.
Moldavite
Star Bridge - Extraordinarily beautiful Moldavite dark green tektite meteor stones meld with pure quartz crystal for an extraordinary journey. This divine fusion creates healing portals to higher consciousness. Moldavite (from Moldavia) links the stardust knowing of the crown chakra with the wisdom of the heart, activating all chakras at higher inter-dimensional frequencies to assist in reaching life potential...a true crystalline bridge to the stars.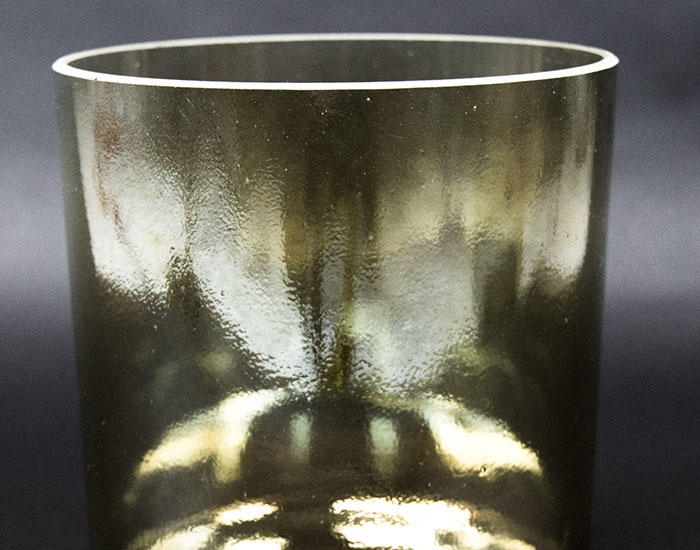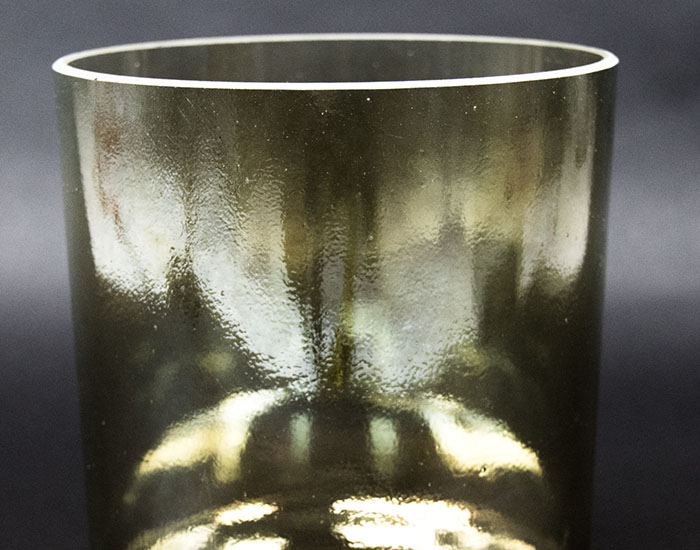 Smoky Quartz
The Smoky Quartz Bowl promotes positive mental and spiritual thinking and the art of staying grounded and balanced. This bowl works the solar plexus, sacral and root chakras for creativity and planting one's roots in the rich soil of the Earth. Serene Smokey Quartz energies encourage centeredness, joy, cooperation and clarity and are a Golden Brown Rainbow of Earth Tones for the coming of the Crystal People to planet Earth, according to Hopi prophecy.
Indium
The deeply violet-hue iridescent bowl contains Indium, a non-synthesized natural substance for vitamin and mineral absorption, balance in body alignment, centering, clearing and integrating male/female aspects of self. Radiating the violet light of ascension (I AM ONE), the Androgynous Indium bowl illumines one's Interior Life, allowing all aspects of Self. Embracing the physical shift to male/female balance, we fully dance the expanded frequencies of Enlightenment that transcend cultural belief systems.